Discover the World of Trucking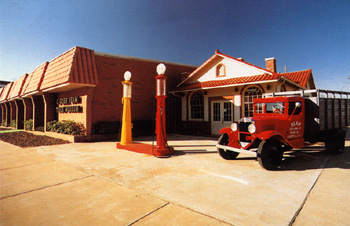 Experience the early days of trucking as they come alive through the exhibit at the C. Grier Beam Truck Museum. This must see attraction was founded in 1982 by the Carolina Freight Carriers Corporation as part of its 50th Anniversary celebration.
Housed in the original gas station where Carolina Freight had its humble beginnings, you can explore over 7500 square feet of vintage trucking memorabilia covering over seven decades. Catch the spirit that sparked the growth of one of America's largest and most respected companies in the world!
Big Wheels Rolling

C. Grier Beam's long and successful venture into the trucking industry began in 1932. Fresh out of college yet unemployed, Beam's vision began with a 1931 Chevrolet truck bought on good faith and a series of notes. From hauling coal for the Lincoln County Schools, to transporting fresh fruit from Florida, this young entrepreneur expanded his company from the fledgling Beam Trucking Company to a company grossing over $137,000 in 1937. Thus Carolina Freight Carriers Corporation was born!

Keep on Trucking

Though the country was mired in the midst of the nation's deepest depression, the little Cherryville company continued its climb to the top. They even managed to purchase a second truck with the help of Cross Cotton Mills of Marion. This enabled them to haul yarn up north for the mill; bring back other products to the south and eventually expand to a three truck fleet. Visitors will be interested in learning that drivers were paid $12 to $15 per trip, sometimes taking more than a week and paying their own expenses. Yet there was never a shortage of drivers due to the high unemployment brought on by the Great Depression.

Carolina Family

During its long and colorful history, Carolina Freight succeeded because of C. Grier Beam's commitment to his Carolina Family philosophy. His dedication to his employees is reflected by many stories such as that of John L. "Buck" Fraley. He was one of the firm's first employees. He rose through the ranks to the position of Board Chairman and Chief Executive Officer. An integral part of the team, he led the company during its most successful years. That success included becoming one of the ten largest motor carriers of general commodities during the last two decades of its operation.
C. Grier Beam Truck Museum has been designated one of the area's top attractions with visitors from throughout the United States and numerous foreign countries. It is dedicated to a true visionary and the local people who turned his vision into a reality

End of an Era

In 1994, new management made the decision to move all trucking operations from Cherryville. In 1995, Carolina Freight Corporation was acquired by Arkansas Best Corporation. Sadly enough, it was the end of an era for many members of the Carolina Family and the town of Cherryville. The C. Grier Beam Truck Museum is committed to preserving this rich history of both Carolina Freight and the trucking industry.



Museum Hours
FREE ADMISSION
10:00 a.m. - 3:00 p.m.
Thursday - Saturday
(Other times by appointment)

Closed
Thanksgiving Day
Christmas Eve & Christmas Day
New Year's Day
July 4th

C. Grier Beam Truck Museum
111 North Mountain Street
P.O Box 238
Cherryville, North Carolina 28021
(704)435-3072
info@beamtruckmuseum.com
Webmaster
Phoenix Corporate Services, Inc.
704-435-0777